Apologies for being late on these. However, better late than never right? Now that my February Ipsy is en route, I figured why not share with you what I received last month. So here goes another quickie on all things makeup, beauty and skin care 🙂
Here is what I got:
Skyn Iceland Glacial Cleansing Cloths
Jelly Pong Pong Fairy Lashes Curl
The Balm Mr. Write Now Eyeliner
OFRA Eyebrow Pencil
Blinkle Eyeshadow
Skyn Iceland Glacial Cleansing Cloths  – what I adore about these is that you can rub it together and it foams! These cloths are soaked with product, are very good at removing make up (you can actually do your entire face with just one cloth and that is including the eyes!) and contain natural ingredients. One that stuck out for me was the Icelandic Complex, which replenishes nutrients that are destroyed by stress and as we all know the first area that gets affected by stress is our skin. Another pro is that these leave your skin feeling refreshed, clean and not sticky at all! Will I be ordering more? FOR SURE.
Jelly Pong Pong Fairy Lashes Curl – before I do my review, I have to disclose my eye lash situation. Mine are long and not very thick, so my usual mascaras are those of volumizing nature. This mascara is more for elongating and separating. Although it promises to curl, I haven't seen much curling, at least not on my lashes. So here is my verdict, I like it for everyday daytime use. It is very clean and not at all clumpy on application, giving you that natural look with a bit of a kick.  If you are looking for more drama and thickness then this mascara is not the one. I also found it a bit weird on removal. It does not come off as regular mascara would aka running down your face, but rather it clumps up and comes off in some type of gooye chunks. I tried to take it off with water only, water and soap, makeup remover, and it's all the same. So because I usually favor volumizing mascaras and I like to remove them with ease, I do not think that I will be repurchasing this item.
The Balm Mr. Write Now Eyeliner – this is a retractable eye liner and mine came in Bronze hue. As much as I love this color on me since it goes great with hazel eyes, I am just not a fan of the retractable eye liner. First, the tip can never be precise because you cannot sharpen the pencil. Second, my eyes are small and I need an eyeliner that does not require much force upon application. So this will be a "No" for me going forward.
OFRA Eyebrow Pencil – this baby went straight to my mom. I just recently purchased a new eyebrow pencil, so this was not in demand. However, before shipping it off I did give it a quick whirl and on first try it was smooth and creamy. So in my book that is a good thing, however if you are heavy handed then you might over apply and have your brows looking like those of Frida Kahlo. She was cool and all, but her eyebrows definitely needed some help! Another little qualm that I have about eyebrow pencils in general is that they should always come with a brush on the other end. It is so convenient and an absolute must these days. This pencil does not come with one – bummer. Needless to say, I will not be purchasing this item as I already have a trusty eyebrow pencil in my collection.
Blinkle Eyeshadow – this was a pleasant surprise as at first I did not expect much of this sample. Since at a glance it was very bright, I was a bit hesitant as to what I will do with this eye shadow. However, on application this shadow is very light, so if you want to build color you have to work for it. For me this is absolutely okay, as I like to be in control of how much I put on. I like this for over all lid and it is perfect for those busy days when you do not have time to do your whole lid/crease/outer corner routine. The copper color goes well with my eye color as well. With that said I will definitely purchase this product again!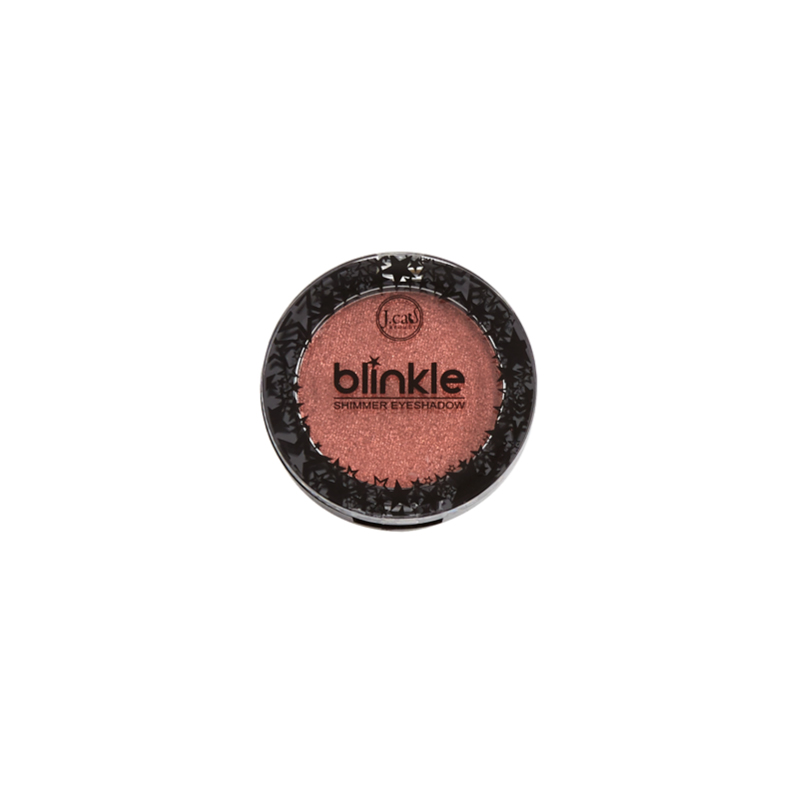 What did you get in your Ipsy Bag this January?